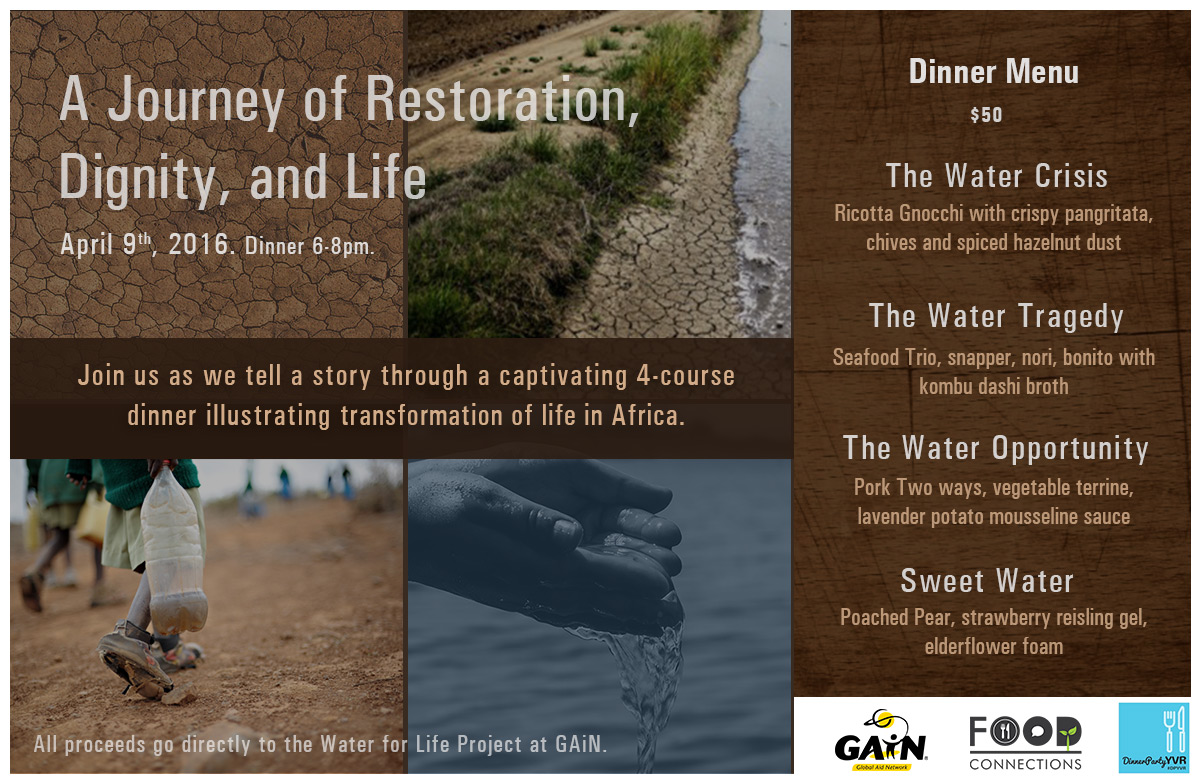 Journey with us as we tell the story of the water crisis, the tragedy, the opportunity, and the sweetness of clean water. Through this evening, diners are given the opportunity to be involved in restoring the right and dignity to safe water around the world. Clean water is a simple basic necessity for human development, but also something we take for granted so easily here in Vancouver.
Global Aid Network (GAiN) helps break the cycle of disease and death, and transform communities for a lifetime by building water wells in rural villages in Africa that are struggling with poverty. Everyone deserves to have a chance in life.  Give water, give life.
*****
WATER
A Journey of Restoration, Dignity, and Life
1st course: 'The water crisis'
Ricotta Gnocchi with crispy pangritata, chives and spiced hazelnut dust
2nd course: 'The water tragedy'
Seafood Trio, snapper, nori, bonito with kombu dashi broth
3rd course: 'The water opportunity'
Pork Two ways, vegetable terrine, lavender potato mousseline sauce
4th course: 'Sweet water'
Poached Pear, strawberry reisling gel, elderflower foam
*****
Your meal includes:
Meal as described above
1 glass of Serendipity Wine, Howe Sound Beer or DRY Sparkling
Entrance to the After Party (desserts offered by donation, cash bar and entertainment)
Date: April 9th, dinner 6-8 pm, after party open @ 8:30 pm.
Minimum $50 per seat
If you have any food allergies or sensitivities, please contact info@dinnerpartyyvr.com before signing up for a meal. Also check our terms & conditions for more info.
TICKETS TO APRIL 9th IS SOLD OUT.
Click here for tickets for April 10th. Time: 6-9pm.
Location: Vancouver (False Creek/Mt Pleasant)