At Food Connections we specialize in organizing events that include two components: food and storytelling. All the events we run include delicious food and tell a meaningful story. Here are the types of organizations we have worked with in the past.
Restaurants
Organizing an event and inviting influencers can be a great way to promote and market your restaurant. We help restaurants design the event, craft the story that is told, invite food bloggers and food influencers, and guide the guests to make use of their social influence to tell the story of your restaurant and promote your food.
Food Companies
Many food companies will organize an event to launch a new food product. This is a great way to get the word out about a new food you are selling. We can help make the event memorable by creating an experience that is unforgettable.
Charities
Many charities will organize events to promote their cause. An event with great food and captivating storytelling can be the perfect opportunity to invite people to participate in your charity, whether it is volunteering, donating, or simply spreading the word. Recently we organized a dinner fundraiser with DinnerParty YVR in support for Global Aid Network.
We also specialize in themed storytelling catering. Here is one we organized for the theme of ending sex slavery in Cambodia, as well as one illustrating widows and orphans in India.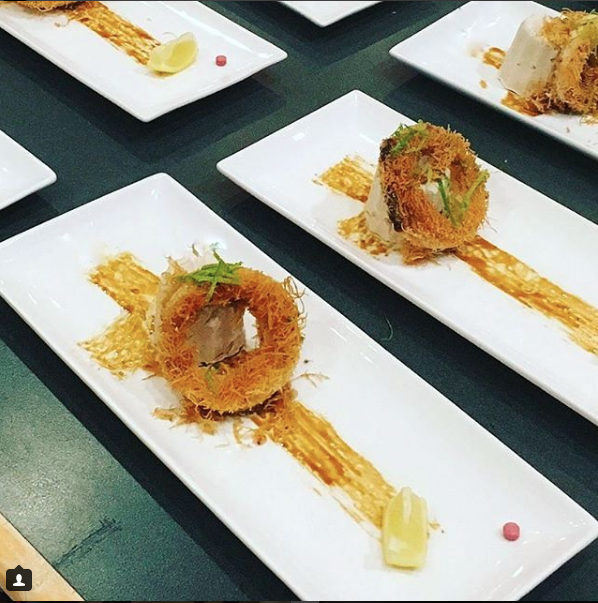 On March 4, 2017, we had a client that hired us to cater a 3-course storytelling menu for his birthday to a large crowd of 50 business and church leaders, depicting the three themes of his life. This dessert represents Christ's sovereignty in upholding justice in the world in two of the most vulnerable countries – Syria and Cambodia. This "Crown of Thorns" is made in collaboration with award-winning Syrian catering women of Tayybeh, a classic dessert in Syria called Kunefe (angel hair pastry baked with cheese and covered in simple syrup and pistacchios). It nests on top of a lime pepper cheesecake, calling out to Cambodia and the injustice of slavery. Lastly the little candy is a miracle berry, it changes your taste buds from sour to sweet so you'll want to suck on that lemon forever. A "taste of the sweetness of grace" in collaboration with Theo's Feast. The best way to alleviate poverty is to inspire entrepreneurs. We need the poor more than they need us.
If you need help organizing an event, contact us.