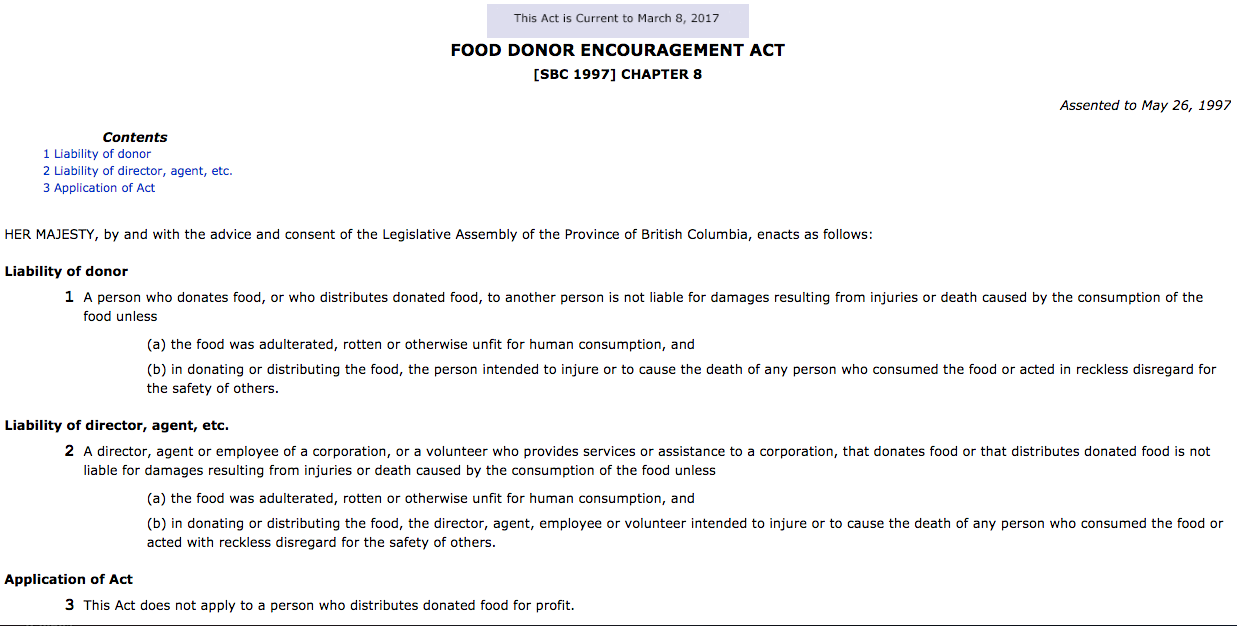 Why is food recovery important?
Canadians waste on average 172kg of food annually.
51% of food waste in Canada is wasted at home.
Over 30% of fruits and vegetables in North America don't even make it onto store shelves because they're not pretty enough for picky consumers.
13% of Canadians do not have reliable access to adequate amounts of safe, good-quality, nutritious food. This is known as a state of food insecurity.
How I can help?
Donors can make positive social, environmental and financial impacts in their decision to donate food to those in need, instead of creating food waste.
Who can I donate it to?
Food Distribution Organizations (FDO) include community kitchens, food banks, food pantries, meal outlets, low cost retail outlets and social enterprises.
It would be worthwhile to do some research to determine which FDO's are a good fit for your organization and build a relationship with them.
Check out Greater Vancouver Food Bank and BC211 for a list of FDO's in your community.
What are examples of un-sellable product I can donate?
Overstocked food
Perishable foods near the best before date.
Non-perishable foods past the best before date.
Incorrectly weighed or measured foods that cannot be resold.
Incorrectly labelled foods—as long as the correct ingredient list can be provided.
Damaged and imperfect items, and bulk ends.
• Unopened non-perishable product returns or shipping errors.
Outdated promotional items, discontinued products, special runs, packs where POs have been cancelled, or other inventory to be cleared out.
Who is eligible to receive donations?
The root cause of hunger in Canada is low income.
About 800,000 Canadians turn to Food Banks every month, and more than 1/3 are children.
People that rely on the help of food banks come from all backgrounds:

families with children
employed persons with low wages insufficient to provide for basic living essentials
individuals on social assistance
Seniors
People with disabilities
Why should I become a Donor?
You hate seeing food waste.
Make a difference, and reduce your environmental impact by keeping both food and packaging material out of the landfills.
Maximize benefits with tax write-offs.
Decrease disposal costs.
Engage and help your community.
Improve your corporate social responsibility profile.
How do we protect our Donors?
In BC, the Food Donor Encouragement Act protects individuals and corporations including their directors, agents, and employees from liability when donating food or distributing donated food, provided that the food was not unfit for consumption, and the food was not donated or distributed with reckless disregard for safety.
*Note to not confuse it with the Good Samaritan Act, which protects an individual who has voluntarily provided emergency aid a victim in distress from being successfully sued for wrongdoing. (Exception: does not apply if the person rendering the medical services or aid).

Resources for more information: