I had the opportunity to be hired at an event in the summer of 2021 called Just1Day that was geared to raise awareness about the issues of human trafficking in Cambodia, Canada, and globally. I was commissioned by an organization in Vancouver to provide an unforgettable food experience that would help bring to life all that we would be learning about slavery, freedom, dignity, and hope for those who are stuck in a system of poverty and corruption.
Having been to Cambodia twice before and meeting organizations fighting the front lines for women, orphaned children, and slavery, I was deeply moved each time I was there, being flooded with a range of emotions. My creativity flows as I try to piece words and images together to depict those emotions.
Food is my platform for storytelling and an entry point to help guests enter into the emotions of a little girl who has been tricked to enter into a life of slavery. I wanted to make the issue of global injustice hit home for each person in that moment and intersect with our personal lives in such a way that would move hearts and inspire action.
For this event, I hired 2 employees, both have experienced marginalization in society through trauma, abuse, and being disadvantaged from birth. Through some guidance, I encouraged them to design the storytelling process with me and write the storyline based off of their personal experience of trauma and abuse. Although it was a risk to do social hiring for such an elaborate event, it would not seem fitting for me to narrate such a tender story wrapped with such emotion, when I can hold space for vulnerability to be painted by a much more fitting individual. It was an honor to witness the joy on their faces as they brainstormed, designed, and created the storyline alongside me, and come to understand how their own story of trauma can be used to awaken hearts in this dining space.
A Cambodian (Food Truck) Chef With A Story …
I discovered Chef Narith early on in the planning process. He parked his food truck, Rice + Soup, just down the street from my workplace. The words, "A Cambodian food truck looking to share our culture with you," immediately captured my attention and I went on a mission to find out more about this food business story. I exchanged only a few words with Narith as he was busy handing out flavourful Cambodian soups and sandwiches to hungry customers, but was able to get his business card and order a soup for myself.
After a bit of back and forth, Narith agreed to cater for the Just1Day, bringing the flavours of Cambodia to our little one-day event.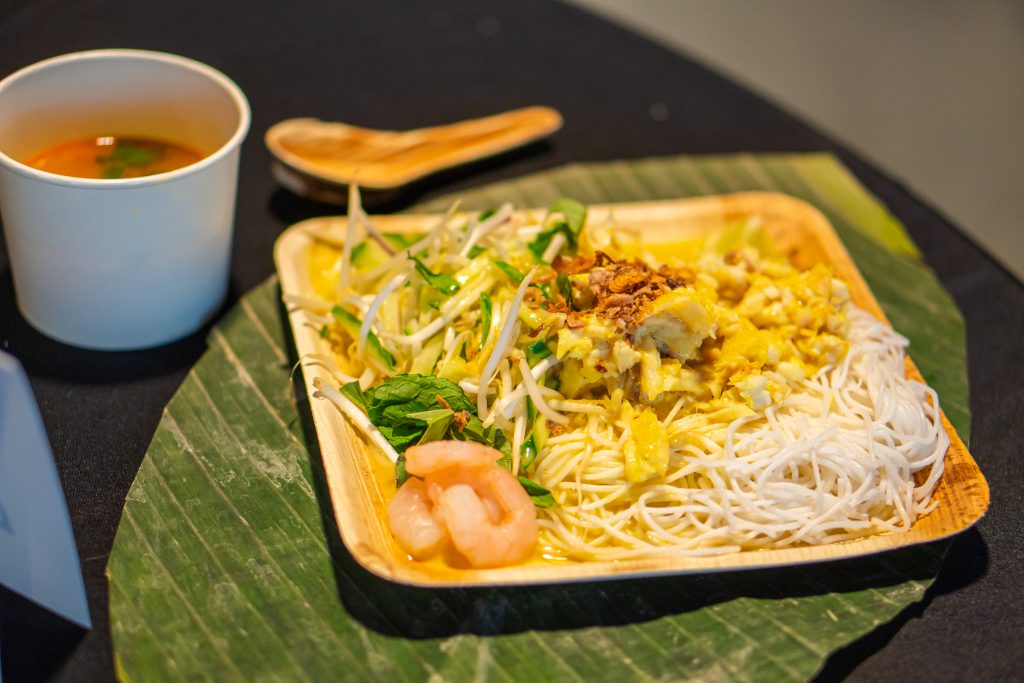 BUT… Here's the caveat for the storytelling component!
Diners were all asked to first put on the blindfolds in front of them.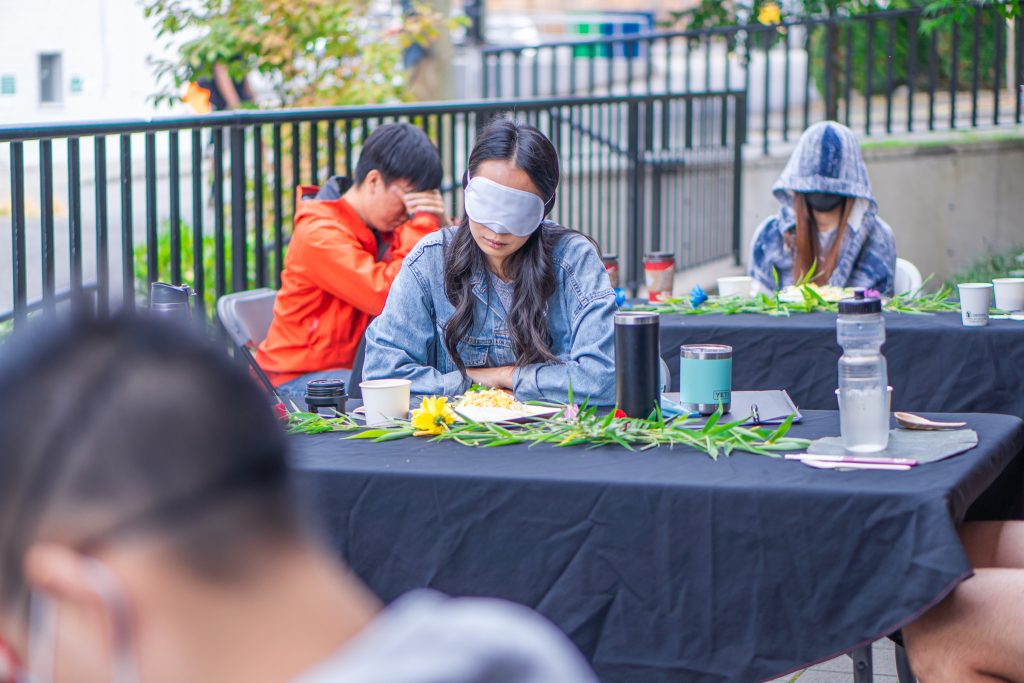 "We have just listened and heard what the harsh reality is like for these girls living in Cambodia. The blindfold blocks your sense of sight so you can engage your other senses by imagining what it's like to walk in their shoes.

Imagine your blindfolded and you're being led, what are you feeling right now, are you scared? You don't know the person that's leading you. What are you feeling right now …do you trust, are you curious?

When you're wearing a blindfold, it will be easier to be exploited and taken advantage of. You don't know any better. One of your senses are taken away when you cannot see. When you are exploited, your rights as a human being are taken away. Your sense of trust is taken away. You don't know what's right and wrong. It's easy to be misled.

You're blindfolded. Imagine what these girls go through in their life being trafficked…imagine being in a vulnerable space. You have no idea what to do next…you accept your fate because you don't know any better and you go along for pure survival."
Servers then placed the plate of food in front of each diner. But the portion sizes for each person at the table differ, from no food at all, to small, medium, and massive portion sizes.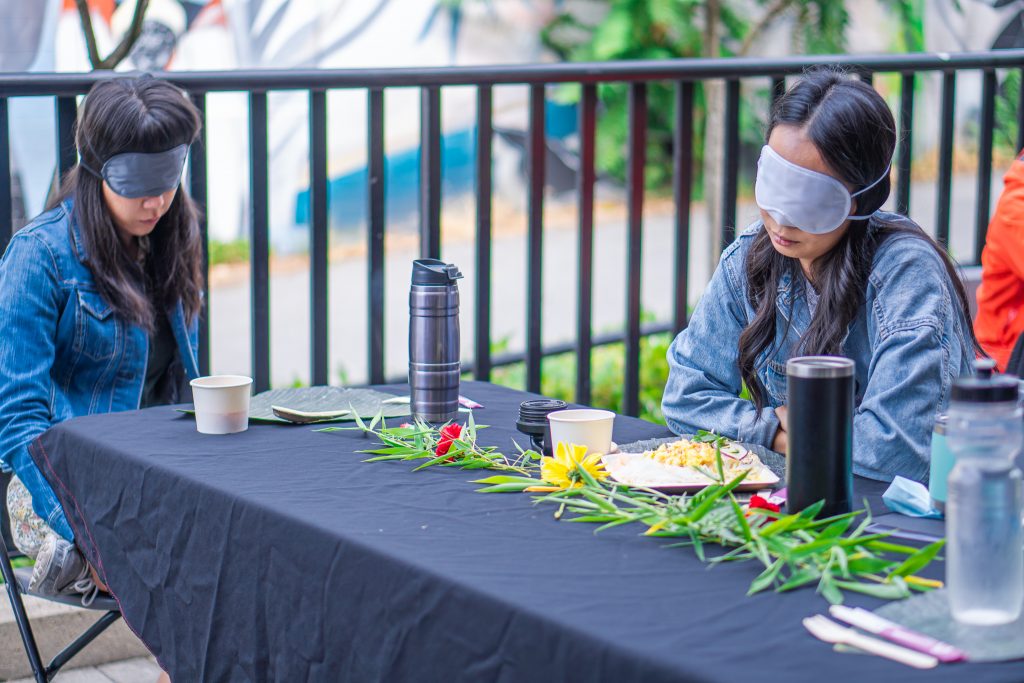 We then asked them a few reflection questions to ponder upon.
I'm going to ask you to take your blindfold off now…
What's going through your mind when you look at your plate right now?
When you look across the table to the person who has less, what are you feeling?
What's your response?
What emotions and thoughts does this evoke? What assumptions do you have about the person who has less on their plates?
What assumptions do you have about the ones that have more on their plate?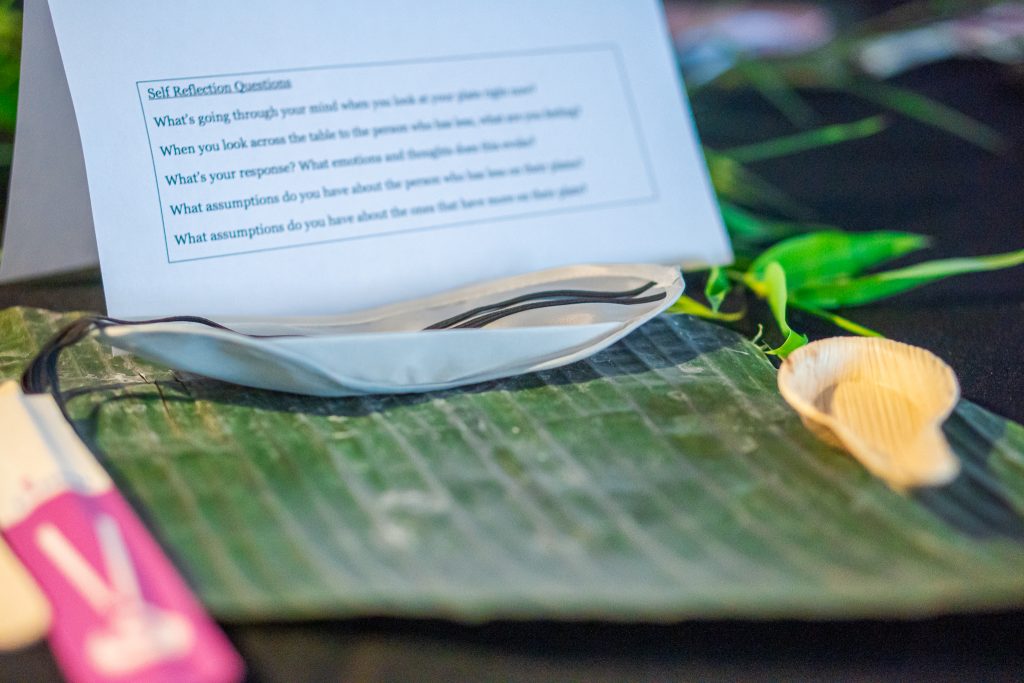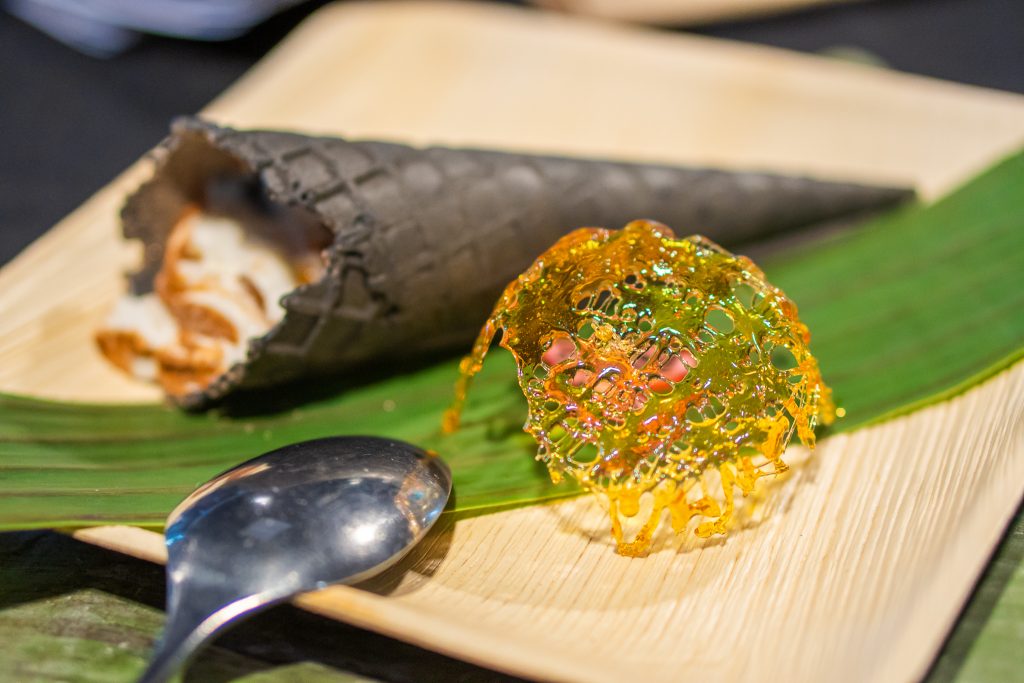 As a take-home interactive exercise, we designed this dessert.
The gold caramel cage represented the money-fuelled industry that traps each life into slavery. Inside the cage sits a hand sketched heart, ink drawn by one of our female employees who grew up disadvantaged in society. It was her special art project she wanted to contribute to the dish, and spoke into the design process with me.
The black cone represents the dark tunnel into which the girl has to walk through (we filled it with ice cream just for fun).
My heart was full at the end of the evening. Diners left deeply moved, my two employees' voices were heard and their value affirmed, and Narith's eyes shed tears as he packed up to leave…. in his words "I have never seen anyone care so much about my country, Cambodia. Thank you so much for inviting me. I did not expect this."